PREMIER SELLERS MARKETING PROGRAM
Whenever we meet with a prospective seller who has had their home listed previously with another agent and tried unsuccessfully to sell their home, we always ask the same question.
What did your previous agent do, as far as marketing and advertising, to promote your home?
Invariably, the response is always the same.
The agent talked a good story when we met with them, and they said they were going to market it, but we never got anything in writing, and we never really saw anything in the way of advertising beyond a sign out front and some flyers......Our house just seemed to sit on the market while the homes around us all seemed to be selling.
With Jeff & Teresa Henderson with REeBroker Group, we take the trust you put in us to market and sell your home Very Seriously. And we put our money where are mouth is. That's why we give you a written marketing guarantee when we list your home, outlining exactly what we will do to get your home sold.
That way, you know exactly what is being done to market your home, and there are no surprises.
And if at any time we do not live up to our agreement, you can cancel your listing with no penalty.
There is no substitute for aggressive and effective marketing to sell your home. The right marketing on your home will say the right things, be in the right place at the right time, and compel qualified buyers to pick up the phone and find out more!
BELOW IS WHAT WE EXPEND TO MARKET YOUR HOME:
UNIQUE WEBSITE MARKETING:
Our own Website generates 100's of specific buyers a month and as you can see below it is much more than just a single website. Our multi-tier marketing platforms within our main website enables us to reach a multitude of qualified buyers and increase demand for your home through our unique consumer programs that are offered to our buyers. Like BUYERS CASH CREDIT that if the buyers buy one of our listed properties like yours we will agree in writing to pay part of their loan closing costs. The cash credit starts at $500 and goes up to $1500. Buyers are much more likely to want to see and investigate your home when they know as your agents we are giving them Free Money To Buy It.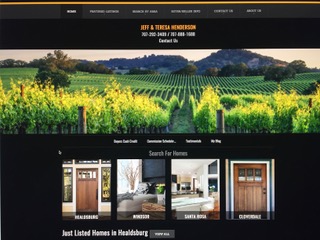 INTERNET MARKETING:
Over 92% of today's buyers start their search for a home online before ever contacting and agent. The average distance people move has gone from 50 miles to over 250 miles primarily because of online access to information. When your home is listed on the MLS with us it will then be syndicated thru the Largest California Online Brokerage REeBROKER GROUP whom we work for. Not to mention that it will appear on hundreds of top real estate search engines simultaneously such as: Realtor.com, Trulia, Zillow, Red fin, Homes.com, Homefinder, Homegain, Hotpads, Google, Yahoo, Safari, Bing, GreatHomes, Luxury Real Estate and many many more.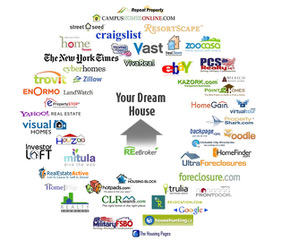 BROKERS OPEN:
Not to be confused with the traditional open house a brokers open is just that. It is for serious agents looking for your particular home from different real estate companies that have ready and willing buyers waiting to buy. We will invite them to see your home during the week day by notifying them thru our website and MLS.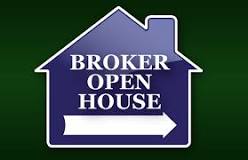 OPEN HOUSE WITH PRESS DEMOCRAT:
The traditional open house is a great way to let buyers working with agents and those buyers not committed to and agent to see your home on a Weekend. We hold it Saturday or Sunday from 1pm to 4 pm and advertise it on our Website, MLS and the Press Democrat. The Press Democrat puts it not only in print but online. Between these different avenues we hope to bring serious attention to finding that right buyer for your home.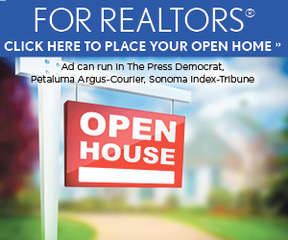 HOMES AND LAND COLORED MAGAZINE:
This full colored magazine is the premier entity for showcasing your home with and approximate distribution of 100,000 copies on stand in six different counties, Sonoma, Napa, Marin, Solano, Mendocino, & Lake. Also Homes & Land puts your home everywhere buyers look. Online, Facebook, Mobile, High Traffic Website, Targeted Direct Mail, Craiglists and much more.
Social Media:
Social Media is the next 800 pound Gorilla for creating Buzz about your home. Having a good plan with Facebook and Twitter can help expose your listing to a whole new audience. With our State of the Art Website we do just that. The Henderson Team will write a blog about your home on our website and then announce it to the whole world. Most real estate agents are unaware of the power and exposure of Social Media.


UNIQUE SIGNAGE W/FLYER BOX:
National Statistics say that 40% of your buyer activity comes from a sign on the property. It is a definite fact that more Prominent Signage on your property will create more activity. We go the extra mile by making sure that when buyers drive buy that your property stands out. Our new compelling main sign has our names, company,phone numbers and website address so that buyers can have access to your property and us, your agents for more information. We then add a benefit name ryder, BUYERS CASH CREDIT underneath the main sign which also compels buyers to investigate on our website. Last we put a sign ryder box with a colored brochure for people who can't wait to see what your property has to offer.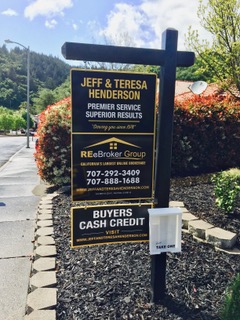 AGENT MARKETING:
Its a proven fact that other agents want to do business with other seasoned experienced agents when possible. I have been in the business for 40 years and Teresa has been in the business 28 years in Sonoma County. We have worked at one time or another with a majority of great agents. When they see our listings come up they know that life will get a lot easier when they bring a buyer to see your property because if they sell your property the transaction will go a lot smoother and both buyers and sellers will be happy.